Skip to Content
Bereavement Support for Family Members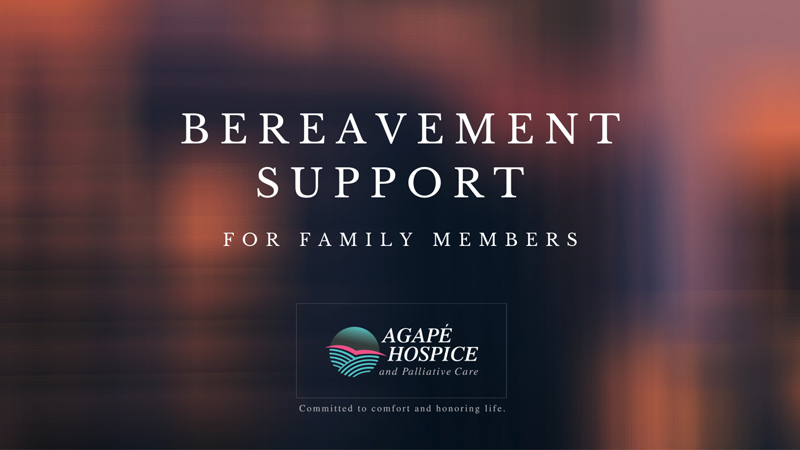 Bereavement support is an important part of our services at Agapé Hospice. Grief is a natural and complex reaction to the death of a loved one. Everyone goes through a different grief process and mourns in their own way. We understand that the loss of a loved one can be one of the most significant sorrows in a lifetime.
Our Bereavement Program Offers Support and Counseling to the Patient, the Family, Loved Ones, and Any Care Staff, for a Minimum of Thirteen Months Following a Patient's Death.
Bereavement support is not only for after death, it begins during hospice care. Caring for or living with someone with an advanced illness can take an emotional toll. It's common to feel overwhelmed or lost in this situation. Knowing their end of life is imminent can cause anticipatory grief and anxiety. Families often grieve when they learn that a loved one has a terminal diagnosis. We are here for our patient's families during the time of hospice care and afterward.
Healing Takes Time and Grief Is Complex. Remember:
Everyone experiences grief uniquely and you shouldn't feel badly for how you process through it.
It helps to talk about your grief and remember your loved one.
Grief comes in a multitude of emotions and feelings. Outbursts of grief or the feeling of intense loss are okay.
Be easy on yourself during the bereavement process and recognize your emotional and physical limits during this time.
You have the right to embrace spirituality during bereavement and search for meaning in different ways.
Treasure your memories. Writing down memories with your loved one who has passed can be helpful.
Remember it's okay to move forward in your grief and heal. Don't feel guilty for moving forward in life as it's necessary.
If you or a loved one is in need of hospice care in the LA and Orange County area of California, Agapé Hospice can help. Our mission is to provide exceptional physical, emotional, social, and spiritual support, enabling patients and their loved ones to have an end-of-life experience characterized by dignity, choice, and comfort.
We are currently accepting new patients. Contact us on our website to inquire about hospice and palliative care for your loved one or to reach out with any questions.
You can also call us at 213-784-2733 or email info@agapehospicepc.org.