Skip to Content
COVID-19 and Hospice Care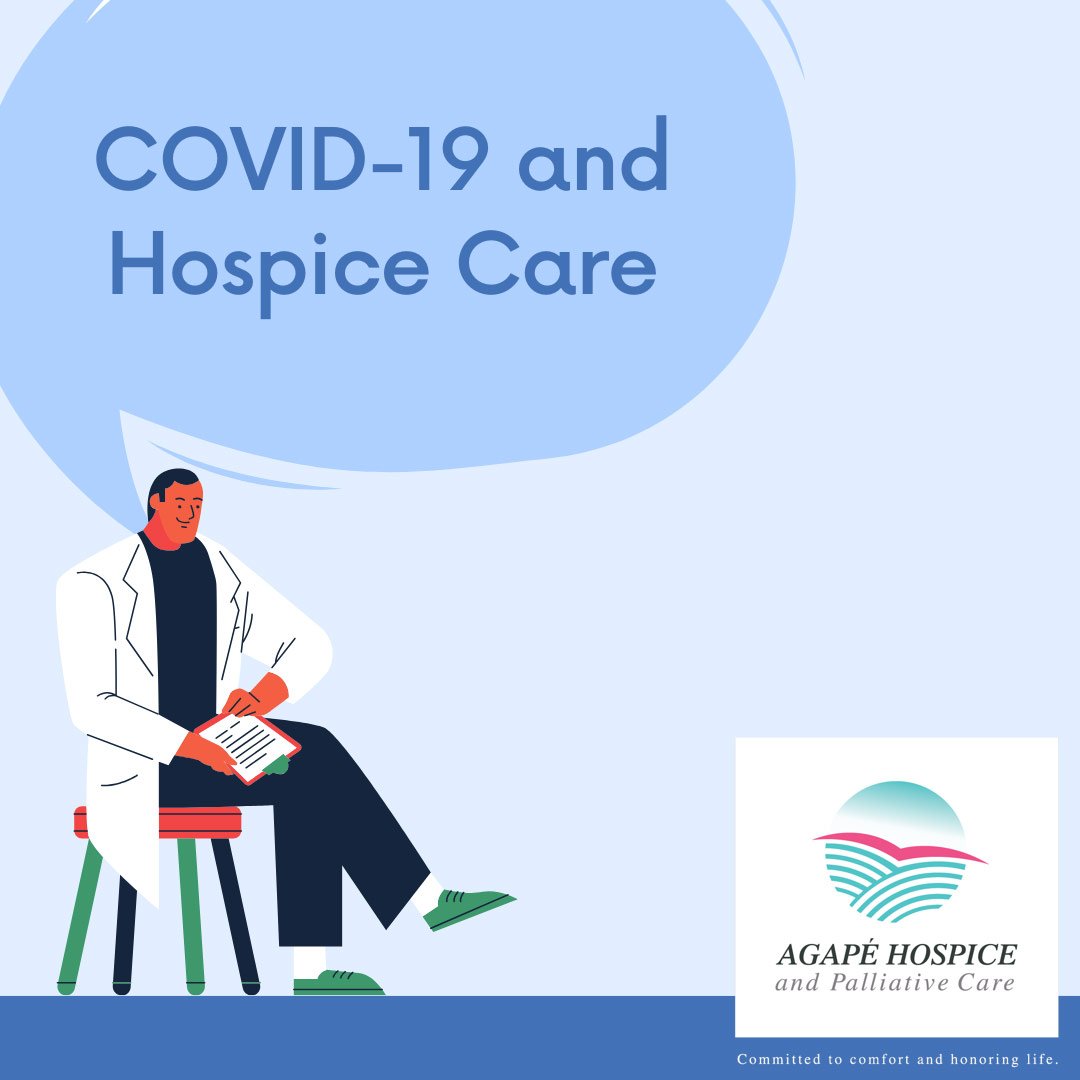 As our community works to navigate the COVID-19 (coronavirus) crisis and minimize the spread, Agapé Hospice remains open providing end-of-life care to patients and families in Los Angeles and Orange County.
The skills of hospice care are necessary in times of uncertain crisis like now. Skills such as symptom management, compassionate communication and support, advance care planning, and a calm presence. As hospice providers, we understand well how difficult it can be to face uncertain outcomes with serious illness.
Role of Palliative Care in COVID-19
As the California State University Shiley Institute for Palliative Care released in a statement on the role of palliative care in a COVID-19 pandemic:
"Those who are elderly, frail, and/or with underlying chronic or serious illness are most at risk from the novel coronavirus. These are palliative care's core patient population. Utilizing the unique skills and strengths found in palliative care must be part of the response.
Family and authorized proxies may be prohibited from visiting acutely ill and chronically ill patients in the hospital and long-term care residents in nursing facilities. Informed and shared decision making may require long-distance or convoluted conversations in the absence of clear information. Maintaining grace, helping patients and families to understand and decide, coordinating care and providers are all in palliative care's wheelhouse."
Preventing the Spread
Rest assured that Agapé Hospice is taking necessary precautions in order to deliver essential care to those we serve at the end of life.
During this time, we have maintained our high standards of care as well as made changes to keep our providers and patients safe. We are closely following the CDC's guidelines such as disinfecting, protective gear, patient education, and screening caregivers and patients for COVID-19 symptoms.
Higher Risk
The National Foundation for Infectious Diseases states older adults and people who have chronic medical conditions including heart disease, lung disease, diabetes, cancer, and hypertension are at higher risk for more serious COVID-19 illness and death. This is because our immune systems grow weaker as we age, which makes it more challenging for older adults to fight off infectious diseases.
As of March 25th, the Centers for Disease Control and Prevention (CDC) states 8 out of 10 deaths reported in the U.S. have been in adults 65 years old and older. We understand that the elderly and those living with pre-existing medical conditions are at the highest risk for COVID-19. Right now, they and their loved ones may feel particularly vulnerable or stressed.
Coronavirus Guidelines for Seniors
The CDC released these coronavirus guidelines for older adults (65+)
Stay home if possible.
Wash your hands often.
Avoid close contact (6 feet, which is about two arm lengths) with people who are sick.
Clean and disinfect frequently touched surfaces.
Avoid all cruise travel and non-essential air travel.
Call your healthcare professional if you have concerns about COVID-19 and your underlying condition or if you are sick.
For more information on steps you can take to protect yourself, see CDC's How to Protect Yourself
The CDC also released this advice for older adults to cope with stress and support themselves:
Take breaks from watching, reading, or listening to news stories and social media. Hearing about the pandemic repeatedly can be upsetting.
Take care of your body. Take deep breaths, stretch, or meditate. Try to eat healthy, well-balanced meals, exercise regularly, get plenty of sleep, and avoid alcohol and drugs.
Make time to unwind. Try to do some other activities you enjoy.
Connect with others. Talk with people you trust about your concerns and how you are feeling.
Call your healthcare provider if stress gets in the way of your daily activities for several days in a row.
The National Association for Home Care & Hospice also has a helpful patient guide to COVID-19.
Agapé Hospice Is Here for You
If you have any questions about COVID-19, end-of-life care, and policies and procedures, feel free to contact us.
We are still accepting hospice patients at this time. If you or someone you know may be considering hospice, please get in touch.
Further Updates
Visit these sources for current updates on COVID-19: