Skip to Content
Hospice Care Team Members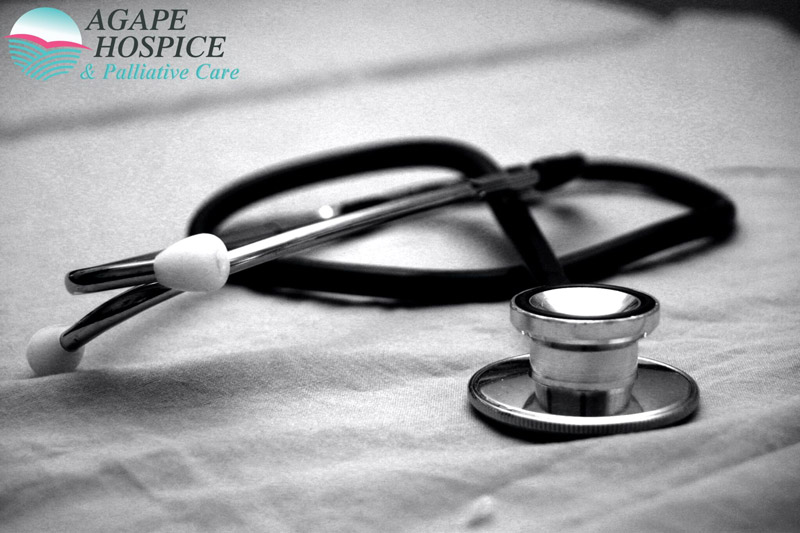 For our Agapé team members, working with hospice patients and their loved ones is more than a job – it's a calling and a privilege. Our interdisciplinary group of hospice professionals provide comprehensive end-of-life care to those who need it in our community.
Hospice & palliative care requires many different skill sets to meet the needs of patients and their loved ones. When choosing Agapé for hospice care, you receive the full resources of our dedicated, interdisciplinary team. We not only address physical needs but also emotional, social, and spiritual needs as well. Our team works together to ensure all of the patient's needs are met and to address any of their unique challenges. With accredited medical professionals and trained counselors in collaboration, we can address all needs associated with the dying process and provide a safe environment for all involved.
Members of the Agapé Hospice & Palliative Care team and their roles include:
Medical Director (Physician):
The medical director (physician) is responsible for the medical components of the hospice patient care program. This specially trained physician is responsible for ensuring that every patient's care wishes are honored, that the hospice team is supported, and that the care goals set for each patient are being achieved with the utmost level of care.
Registered Nurses / Case Managers:
Our registered hospice nurses directly care for patients and support their loved ones. They provide quality nursing care, pain and symptom management, and make arrangements for medications, medical equipment and supplies.
Agapé registered nurses are available 24 hours a day, seven days a week, to give the patient and their family support and assistance whenever needed. Our nurses will regularly visit and train loved ones and care staff on what they need to do when assistance is needed. Nurses can also offer education on the diagnosis, disease process, and prognosis of the life-limiting illness.
Specifically, the registered nurse case manager coordinates the plan of care with the hospice medical director (physician) through initial and ongoing assessments. Their role is to ensure that all distressing and painful symptoms are effectively alleviated and that the patient's needs are being met.
Our nurses are experienced in dealing with this emotional time in a person's life and can help with:
Explaining the patient's medical situation to loved ones.
Providing education to the patient and loved ones to assist them in decision making.
Providing emotional support.
Accessing spiritual support for the patient and loved ones.
Being present at the time the patient passes.
Certified Hospice Aides:
Our Certified Hospice Aides assist the patient with personal care within the home (such as bathing and grooming). They act to supplement the care provided by the nurses and the case manager. The care that Certified Hospice Aides provide often becomes vitally important to the comfort of the patient in their own home.
Social Workers:
Hospice Social Workers provide education and guidance to help patients and families in end-of-life matters. In particular, they provide a psychological and emotional assessment of the patient / family regarding death, dying and bereavement, and assist patients and loved ones with grief counseling and end-of-life planning.
They are experienced professional counselors who can help patients talk about the changes occuring and are highly skilled at helping families communicate with one another. Social Workers advocate for each patient's end-of-life wishes and help individuals address the emotional aspects of their illnesses.
Social Workers can also help with practical issues such as identifying local resources and services for additional support. Or they may provide assistance with financial and legal concerns, such as helping the patient with a Do Not Resuscitate (DNR) order or coordinating nursing home placement.
Bereavement Counselors:
Agapé Bereavement Counselors support and guide the patient and their loved ones through grief. Our philosophy is to empower families and loved ones to recognize and develop skills to manage grief, while learning to integrate the passing of a loved one.
Our Bereavement Counselors not only provide counseling for family after the patient has passed away, but they can also help the hospice patient personally work through the grief associated with their life-limiting illness and eventual death.
Agapé Hospice & Palliative Care bereavement services are available to the patient, the family, loved ones, and any care staff, for a minimum of thirteen months following a patient's death.
Spiritual Counselors:
Our Spiritual Counselors are drawn from many faith traditions and are specially trained for ecumenical hospice chaplaincy. If requested, they can provide spiritual support to the patient and family as needed and offer reflective discussion of faith and spirituality. Spiritual counselors may also assist in the planning of the individual's memorial service.
Volunteers:
Agapé volunteers can provide companionship and support to the patient and family. Volunteers can assist in a variety of special activities or meaningful presence. They may also assist with general services such as errands, cooking meals, or light housekeeping.
All volunteers are carefully screened and trained properly to assure they are prepared for this type of service. They are required to complete hospice volunteer training. This training includes education on many topics including: the purpose and function of hospice, listening skills, confidentiality, recognizing signs of approaching death, and grief / bereavement support.
Our volunteers gain great personal satisfaction from knowing they have made an impact in another person's life and in the community.
The Collaborative Teamwork of Agapé Hospice & Palliative Care.
All working together, our team of Agapé Hospice & Palliative Care professionals becomes an extension of the patient's support network. We join the patient's existing support network and partner with the patient's family to provide personalized care to keep them comfortable while dying with dignity. The patient and their loved ones are the most important members of our hospice team always.
The more everyone understands what the teamwork of hospice can do, the more comfortable patients and families will be during the end-of-life process.
Contact Us.
Early hospice intervention is the best way to help you or a loved one begin the end-of-life journey.
Agapé Hospice is currently accepting patients in LA & Orange County California. Contact us on our website to inquire about hospice & palliative care for your loved one. You can also call us at 213-784-2733 or email info@agapehospicepc.org.