Skip to Content
Hospice Care for Dementia Patients: What You Need To Know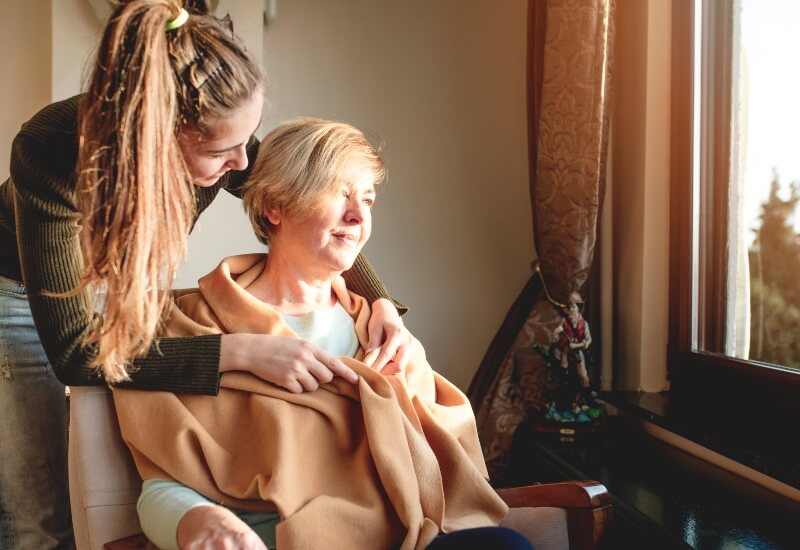 Dementia is a progressive and debilitating condition that has a significant impact on the quality of life of both the patient and their loved ones. When the disease reaches its advanced stages, healthcare professionals often recommend hospice care to provide patients with the best possible quality of life while minimizing their pain and discomfort. In this blog post, we will discuss hospice care for dementia patients. We will look at the eligibility criteria, benefits, and how to begin the hospice discussion and request an evaluation.
What Are the 7 Stages of Dementia?
There is no consensus among medical professionals regarding specific stages of dementia, but researchers have put together a general framework for understanding the condition's progression. Mild cognitive impairment and early-stage dementia are the onset stages, with moderate and severe dementia classified as the middle and late stages, respectively. The last stage or end-stage dementia is only noted to be when the condition approaches the terminal phase, and other underlying conditions are not necessarily the cause of death.
What is End-Stage Dementia?
Individuals in the final stage of dementia are usually not responsive or non-communicative and require constant support and care. During end-stage dementia, speaking, sitting, and walking without assistance become almost impossible. Weight loss, infections, and other complications can arise and require medical interventions.
Can Dementia Be Cured?
The short answer is no. Unfortunately, there is still no cure for dementia. However, some medications may help manage symptoms and improve the quality of life for people with dementia. Although there's no cure, early diagnosis is critical in helping individuals and their families navigate the condition, plan for the future, and access appropriate care services.


Hospice Criteria for Dementia
If your loved one has a dementia diagnosis and their symptoms have progressed to the point where they are no longer responding to treatment, then they may be eligible for hospice care.
Eligibility for hospice care must be determined by a physician who deems the patient's life expectancy to be 6 months or less if the terminal illness runs its normal course. Our team of terminal illness experts is comprised of:
· Physicians
· Nurse Practitioners
· Registered Nurses
· Licensed Vocational Nurses
· Certified Home Health Aides
· Social Workers
· Spiritual & Bereavement Counselors
· On Call Nurses-24/7 Crisis Support
Hospice & Palliative Care Symptom Management for Dementia
Hospice care offers a range of services designed to manage and alleviate the symptoms of advanced dementia, including pain and discomfort management, feeding assistance, emotional and spiritual support, and counseling and therapeutic interventions. Hospice care provides a team of healthcare professionals, including doctors, nurses, social workers, and spiritual counselors, all working together to provide the best possible care for patients.
How Do You Know if You Should Consider Hospice for Dementia?
If you notice your loved one is starting to lose weight, is no longer interested in food or drink, has difficulty swallowing, or shows signs of a severe infection, it may be time to have a discussion about hospice care. Other signs may include becoming bedridden, having severe pain and discomfort, loss of consciousness, and an overall decline in physical and cognitive function.
Benefits of Hospice Care for Dementia

Hospice care provides patients with comfort and quality of life during their final stages of life. The care team offers support for the patient's emotional, psychological, and spiritual needs, ensuring that they have a peaceful and dignified passing. Hospice care is also beneficial to caregivers, as it provides them with much-needed respite and alleviates some of the stress that comes with being a caregiver.
How Should I Begin the Hospice Discussion for a Loved One with Late-Stage Dementia?
It's essential to have an open and honest discussion with your loved one and their healthcare provider about hospice care. Speak with the physician and ask for their recommendation on palliative and hospice care options. Then, sit down with your loved one, taking time to explain hospice care, and reassure them that it's all about making their final days more comfortable.
How Do I Request a Hospice Evaluation and What Does it Entail?
At Agape Hospice & Palliative Care, our team is available 365 days a year and 24/7.
Our team can guide you through the process and ensure that the patient's care is consistent and continuous throughout their end-of-life journey. The hospice evaluation is usually conducted in the patient's home or hospital room, and it will include an assessment of the patient's symptoms and needs, as well as a discussion of the family's expectations and goals.
Hospice Care with Agape Will Improve Your Quality of Life
Care for those suffering from dementia-related health issues can be difficult and daunting to navigate. Fortunately, hospice and palliative care services are available, tailored to the specific needs of each and every individual, allowing patients to spend their remaining days in comfort, love, and support. Keep in mind that hospice focuses primarily on palliative care as opposed to curative care, recognizing that terminal illnesses are not always reversible. Take the time to research all your options carefully before deciding which path is best for your family. Lastly, if you live in LA or Orange County California and need experienced reprieve care or hospice services, Agape Hospice & Palliative Care in LA and Orange County California is here for you. With specialized staff backed by many years of experience, you can trust us to provide diligently personalized medical attention with compassionate understanding of your needs.
Contact us on our website to inquire about dementia and hospice care for your loved one. You can also call us at (213) 784-2733 or email info@agapehospicepc.org.